Seven spots to enjoy lunch in Brunssum: places to go to!
Everyone knows that South Limburg is a hot spot for foodies, but did you know that Brunssum also boasts a number of surprising places to enjoy a great meal? Whether you have a sweet tooth, or you're looking for something substantial or healthy, Brunssum has plenty of places to choose from. The following 7 spots are definitely worth a visit during your next lunch break! Enjoy your meal!
Relax at Brasserie Schuttershüske
Brasserie Schuttershüske claims to be the nicest place in Brunssum. Understandably so, since this century-old former milking shed is now a brasserie with a large sunny outdoor sitting area on the outskirts of Schutterspark. Overlooking the park and the playground nearby, this is thé hotspot to relax during a day out. It's also a great spot for lunch when you need a rest during your hike or cycling tour.
On the menu you will find egg dishes, toasted sandwiches, rolls, pancakes, salades and specials. Tip: don't indulge yourself too much. Leave some room for a sweet and walk across to its 'sweet sister' the ice cream parlour. There you have a wonderful choice of Italian ice cream, ice coffee & milkshakes, sundaes and ice cream tapas. Enjoy!
Address: Heidestraat 20
Opening hours: Mon-Tue closed, Wed-Thu-Fri 10 a.m. – 4 p.m., Sat-Sun 10 a.m. – 5 p.m.
Website: www.schuttersparkbrunssum.nl/
Trendy lunch spot: The Lobby Toast & Roast
The Lobby welcomes you! This is thé place to enjoy freshly made tasty dishes and flavourful coffees. From homemade toasted sandwiches, healthy egg wraps and crispy salads to tasty burgers and special fries. They have it all!
One of the specialties of The Lobby are the toasted sandwiches, which will come in a wide variety of flavours. From an Original to the Parma version, a Chick'n or Tuna Melt. Each one prepared with passion you will taste! The Lobby also offers coffee with freshly baked pastries. On the move or looking for something to take home with you? No problem! You can order 'to go' and enjoy the best of The Lobby at home or on the move.
Address: Uranusstraat 17
Opening hours: Mon 9 a.m. – 11 p.m., Tue 7.30 a.m. – 11 p.m., Wed-Thu 9 a.m. – 11 p.m., Fri 7.30 a.m. – 11 p.m., Sat 8 a.m. – 6 p.m., Sun 9 a.m. – 3 p.m.
Website: www.de-lobby.nl/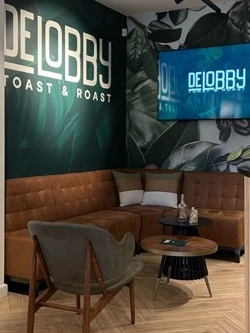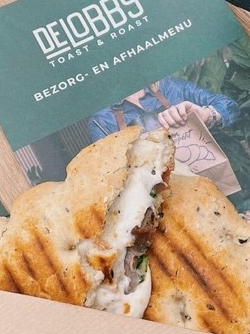 Salt & Sugar: savoury ánd sweet with a Greek touch
When you are talking about surprises, this cosy sandwich bar on Rumpenerstraat is top of the list. At Salt & Sugar your lunch will have that little something. The menu is extensive, special and with a Greek touch. Discover their wide selection of homemade pastries, Greek rolls and delicious specialties. From bougatsa to baklava and from pita chicken gyros to the XL burger. Believe us, definitely worth a try!
Inside, everything looks so appealing and fresh that choosing is difficult. The mouth-watering pastries are a treat and hard to resist. The staff is very friendly and the atmosphere cosy. In short, thé perfect lunch spot in Brunssum for anyone looking for something different!
Address: Rumpenerstraat 149
Opening hours: Mon to Thu 11 a.m. – 7 p.m., Fri-Sat 11 a.m. – 8 p.m. Closed on Sunday.
Website: www.salt-and-sugar.nl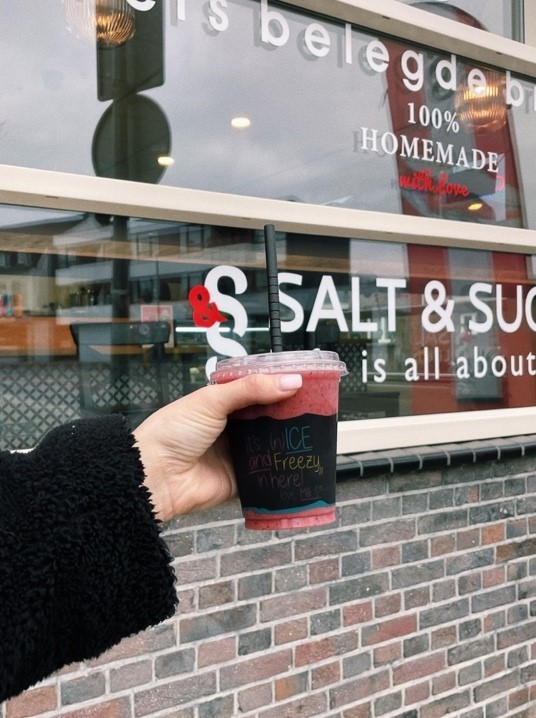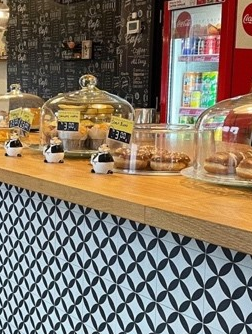 Nature at its best at the BareFeetHut
The BareFeetHut is a wonderful place for everyone, in the midst of nature. Get warm in front of the fireplace or enjoy the sun on the nature deck. In the meantime your kids can play outside, under your eyes.
On the menu you will find pure, homemade dishes, free of E-numbers or flavour enhancers. Choose between classic, vegetarian and vegan dishes and healthy snack alternatives. From croquette and sour beef to falafel and various spreads. In short: pure nature at its best!
Restaurant BareFeetHut works with local growers and suppliers. Sustainable and delicious. And don't be fooled by the name, you can leave your shoes on.
Address: Ganzepool 9a
Opening hours: Wed to Sun 10 a.m. – 6 p.m. Closed on Mon-Tue.
Website: www.blotevoetenpark.nl/nl/blotevoetenhut
Public house Gorissen: for a bite and a drink
At Public House Gorissen you can enjoy delicious dishes made with passion, in a friendly atmosphere. Dating back to 1928, this pub offering meals and live music is a household name in Brunssum. But don't be fooled by its age, public house Gorissen is anything but old-fashioned.
The menu offers a wide variety of lunch options. Will it be a delicious soup for you today, classic fried eggs and ham served on bread, a wrap or a fresh baguette? Do try the 'crazy toasted ham & cheese sandwich' and be surprised. Whatever you choose, you won't be disappointed!
Public house Gorissen is also the perfect place for a drink with friends or colleagues. They serve a selection of appetizers, tapas and canapés to go with your drink. And don't forget: the beer selection is huge! You can sit indoors or choose a table outside.
Address: Kerkstraat 49
Opening hours: Mon 11 a.m. – 8 p.m., Tue closed, Wed 11 a.m. – 10 p.m., Thu 11 a.m.- midnight, Fri 11 a.m. – 2 a.m., Sat 10 a.m. – 2 a.m., Sun 11 a.m. – 10 p.m.
Website: www.proeflokaalgorissen.nl/
Hiking & relaxing at Brasserie De Uitvlucht
If you are looking for a nice lunch spot in Brunssum, then Brasserie De Uitvlucht is an absolute must go! There is a restaurant, bar/lounge, playground, meeting room ánd a wonderful deck overlooking the natural pool and the surrounding nature. What else is there to wish for?
The menu offers a great choice of lunch dishes, ranging from fancy baguettes and homemade soup to flammkuchen and hot dishes. Discover De Uitvlucht. Relax, experience and enjoy in an attractive setting.
The friendly staff, cosy decor and green surroundings make it a nice place to be, but the highlight is definitely the spectacular deck. Relax after a hike on the Brunssummer Heath and enjoy a great lunch outdoors.
Address: Akerstraat 153
Opening hours: Wed to Sun 10 a.m. – 9 p.m. Closed on Mon-Tue
Website: www.deuitvlucht.nl/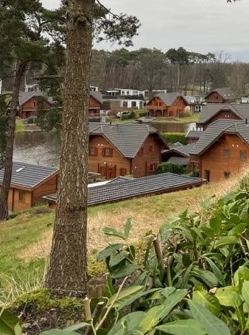 Experience Triade 44 'An extraordinary lunch café'
Triade 44 'An extraordinary lunch café' directly borders on the Brunssummer Heath. It is part of the work-study program of the Triade Care Group. People with a distance to the labour market form the extraordinary heart of this lunch café.
The menu offers (toasted) baguettes, ham and eggs, soup, salads or hot dishes, so take your pick! There is also plenty of choice for vegetarians and vegans. Enjoy this attractive atmosphere, while the enthusiastic staff do their utmost to give you that ultimate Triade 44 experience.
Address: Rimburgerweg 44
Opening hours: Tue to Fri 11 a.m. – 4 p.m., closed on Sat-Sun-Mon.
Website: www.triade44.nl/
This was our selection of the 7 best spots to have lunch in Brunssum! Whether you want a quick bite or an elaborate meal, Brunssum has something for everyone. And with this varied selection of places to go to, there is plenty of choice to try something new. On your own, with friends, family or colleagues. So, what are you waiting for? Go explore and experience our cosy Brunssum.